Every shoe fan wants to own a pair of high-quality, long-lasting sports shoes. However, in addition to selecting a recognized brand and a style that is appropriate for your needs, the maintenance and cleaning of your shoes during usage will influence their durability. Today, Littlleowh will provide the most effective approach to clean Air Force 1 shoes for sports enthusiasts. The maintenance and how to wash Air Force 1 shoes while wearing will decide the durability of your Air Force 1 shoes.
1. 5 Steps To Clean Air Force 1
Step 1
Most efficient Remove all shoelaces and insoles to wash separately. You must clean the shoes by removing the dry dirt from the soles using a dry soft bristle brush. For example, toothbrushes, shoe brushes, and so on.
If your shoes are highly contaminated with dirt, pry all of the dry dirt out of them, shake them off, and cover all of the hard, dry soil. Avoid putting washing solution on your shoes since it will dissolve mud, leaving your shoes dirtier and more difficult to clean.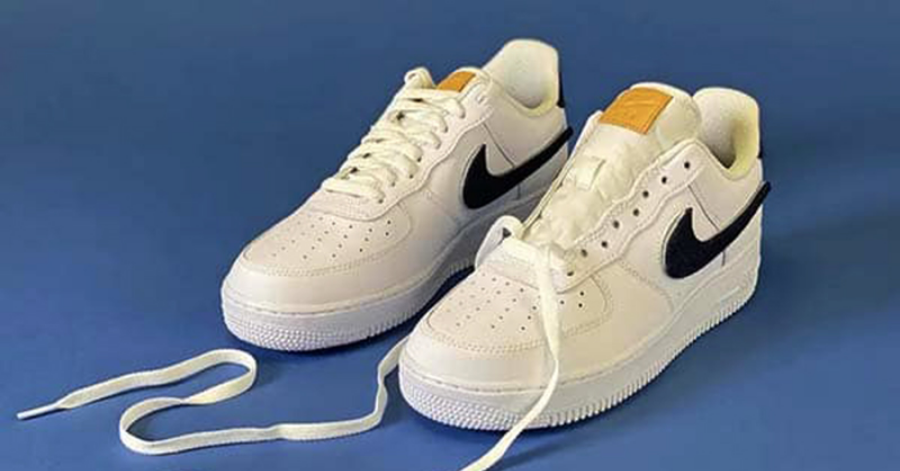 Step 2
To make a mild soap, combine washing powder and warm water. It should be noted that only mild or moderate detergent should be used. If you are extra cautious, you should wash your shoes with shampoo or shower gel. Shampoo and shower gel with reduced bleach content will better protect the cloth.
Step 3
Normal hand washing is recommended for shoelaces; do not use a brush as it will easily harm the laces. The shoe-playing community teaches each other that you can place your shoelaces in a bottle or jar and then add the washing solution, shaking rapidly to clean the laces to avoid rubbing them directly on the shoelaces. The laces will not be fully clean, but they will be better protected.
Instead of a laundry brush, you can gently scrub pads with a polishing brush (soft bristle) or a soft cloth. Because the washing pad has the most direct and frequent contact with the feet (without socks / with socks), it is very dirty and difficult to whiten.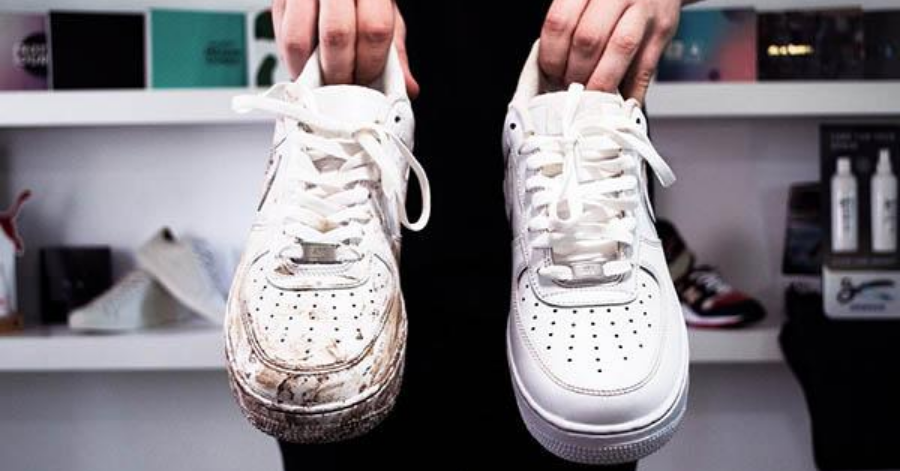 Step 4
Scrub the unclean portions of the shoes using soap and a soft cloth, sponge, sponge, or soft brush, for example. Soak the shoes in warm water several times before wiping them clean of soap and stains.
If you rub too hard and for too long on a dirty spot, it will discolor and harm the material. Do not use a wash brush since the harsh bristles will ruin your prized shoes.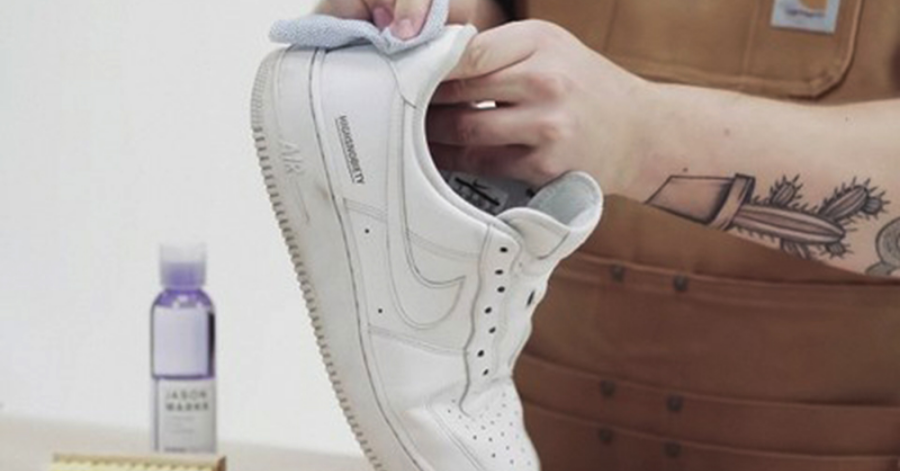 Step 5
Nike sneakers should be air-dried at room temperature. It should not be exposed to direct sunlight or left outside because it will deteriorate the materials.
The advantage of the above cleaning process is that virtually the entire inside of the shoes is waterproof so that drying will be quick, and the shoe material will be protected for a long time. As a result, you must keep the shoes dry when wearing them to avoid getting damp. To prevent washing the insides of your shoes, change your socks frequently and use deodorizing pads.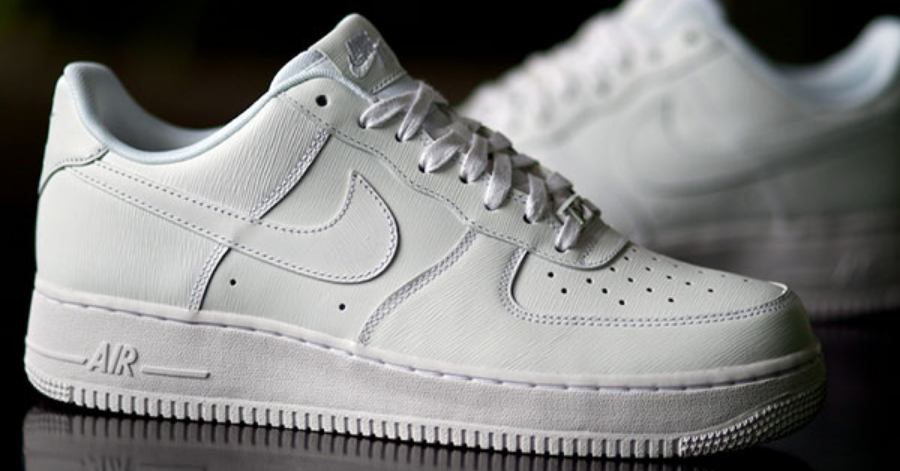 2. Notes on how to care for and clean Nike Air Force 1 shoes
Do not immerse your shoes in water or soap. Shoes should not be washed in a washing machine, nor should they be polished with leather shoe polish.

Keep the shoes clean if you don't wear them for an extended period of time. Remove the shoe insoles, place them in a dry area, and wrap the shoes in the paper.

Avoid allowing water to seep into your shoes; if your shoes get wet, place newspaper in them to allow the water to soak into the paper. The shoes should then be dried in a dry environment, away from direct sunshine.

Avoid contacting the shoe's sole with oil, gas, or other substances that can easily damage shoes when wearing. Because the shoes are sticky, they must be washed immediately with clean water. Avoid contact with chemicals and sharp items as well. The shoelaces should not be overly tight.

Clean shoes regularly, and when they become dirty, wipe them gently with a clean towel soaked in soapy water. Do not scrub vigorously with a brush, and do not wash with bleach.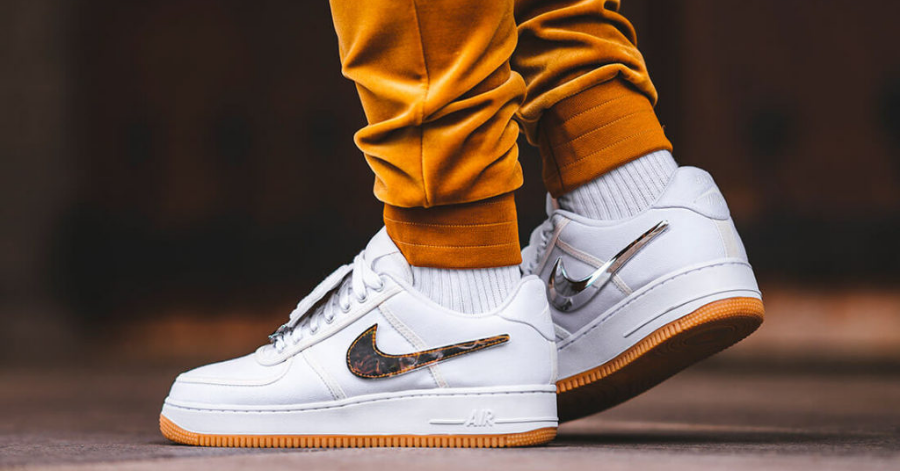 You may easily wash your cherished sneakers at home by following the 5 simple procedures outlined above to clean Air Force 1 shoes for sports fans. I wish you luck with how to wash Air Force 1 shoes, which Littleowh has recently introduced. You can also find some amazing advice and offers on our