Halloween is time to dress up as favorite characters and showing off a fandom. Anime characters are ideal Halloween costumes due to their diverse styles and designs. However, some anime costumes are more complicated than others, requiring more time or resources to complete.
At Littleowh, there are a plethora of anime costumes that are simple to put together and do not need a lot of preparation or money. These simple Anime Halloween Outfits and uniforms will make you immediately identifiable on Halloween night.
--------------
RELATED: 48 Best Anime Halloween Costume And Cosplay Ideas for 2021
1. Attack on Titan Survey Corps Outfit
The Attack On Titan anime series revolves around the Survey Corps. The Army branch is most engaged in direct battle with the Titans, extending livable human territory, and exploring new regions outside the city.
The Survey corps consists of the most trained and elite troops using ODM omnidirectional mobile equipment. Their symbol is named "The Twins of Freedom" because they represent mankind's "hope." The Survey Corps believed that one day their efforts would alter the world, allowing them to resist the Titans and return mankind to peace.
On Halloween night, transform into a member of the Survey Corps to combat the evil creatures.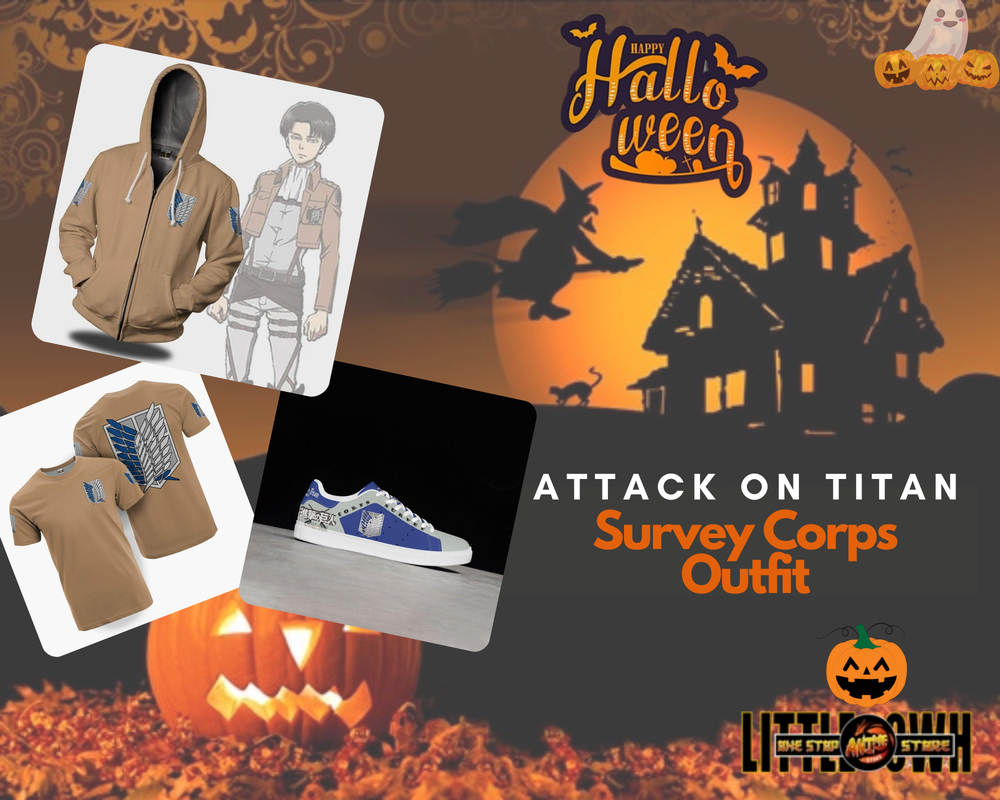 View more: Survey Corps Halloween Outfit
2. Haikyuu Karasuno Outfit
Characters in the sports anime Haikyuu!! Compete to be the best high school volleyball players and wear orange and black uniforms. All you need are black kneepads, a volleyball, and a pair of sports shoes to look like a Karasuno High volleyball player.
The Karasuno volleyball outfits come in both orange and black and make a great Anime Outfit option. With a little work, fans of Haikyuu!! Can show off their favorite anime moves.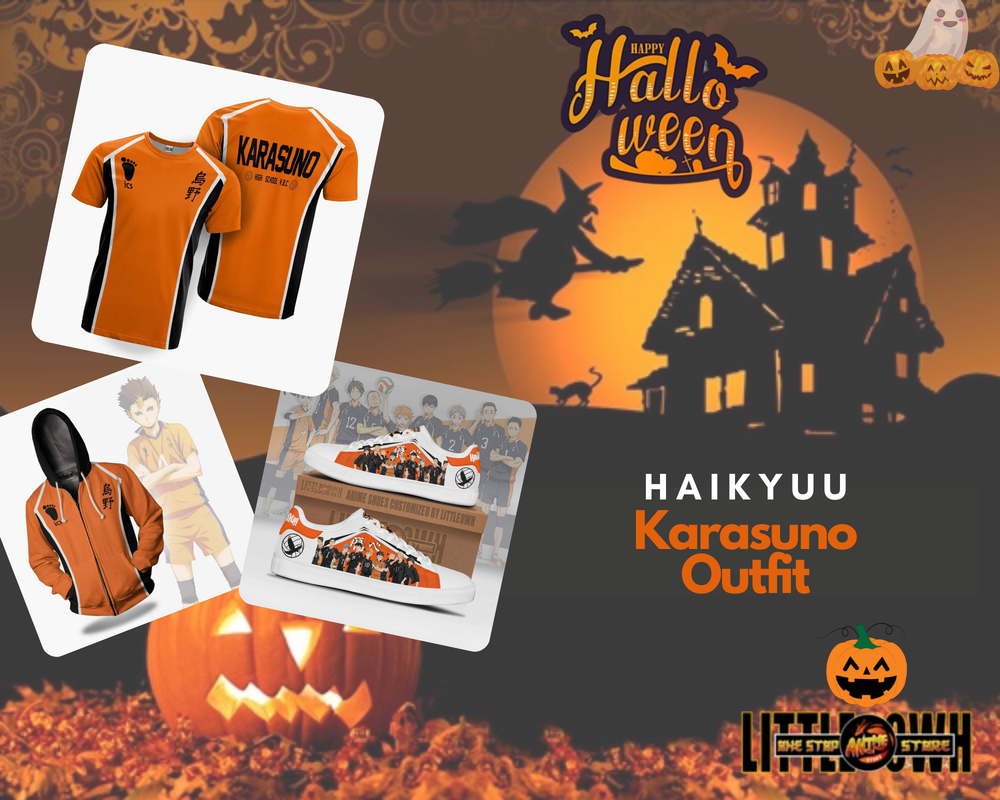 View more: Karasuno Halloween Outfit
3. Akatsuki Itachi Outfit
Uchiha Itachi is an Uchiha clan genius in Anime Akatsuki, the older brother of Uchiha Sasuke and one of the most well-known characters. When Itachi kills his whole tribe to defend Konoha, his little brother and transforms himself into an S-rank wanted ninja, he possesses the most convoluted and confused inner self in the series. Despite his brief existence, Uchiha Itachi made an indelible mark on the story, both in terms of brilliance and enormous sacrifice.
Cosplaying as him for Halloween might be a great idea!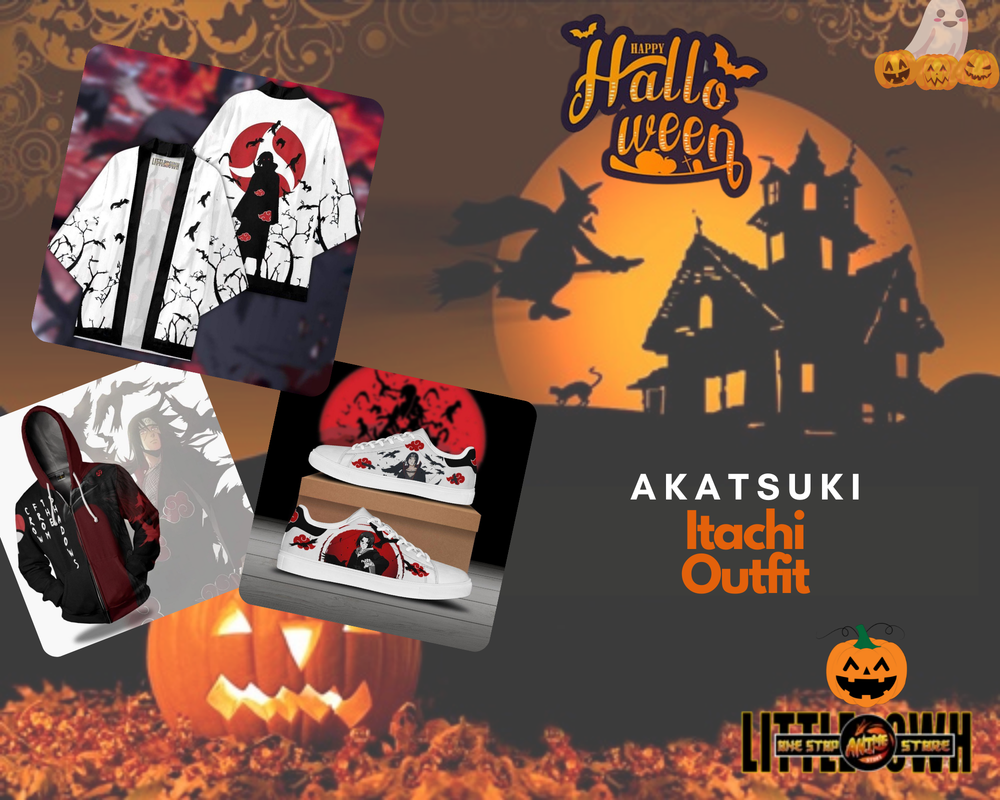 View more: Uchiha Itachi Halloween Outfit
4. Akatsuki Obito Uchiha Outfit
If you enjoy reading Naruto stories, you will recall Uchiha Obito, who led the Shinobi world to experience many ups and downs. His clothing is simple yet instantly identifiable.
Try cosplaying him for a fun Halloween night.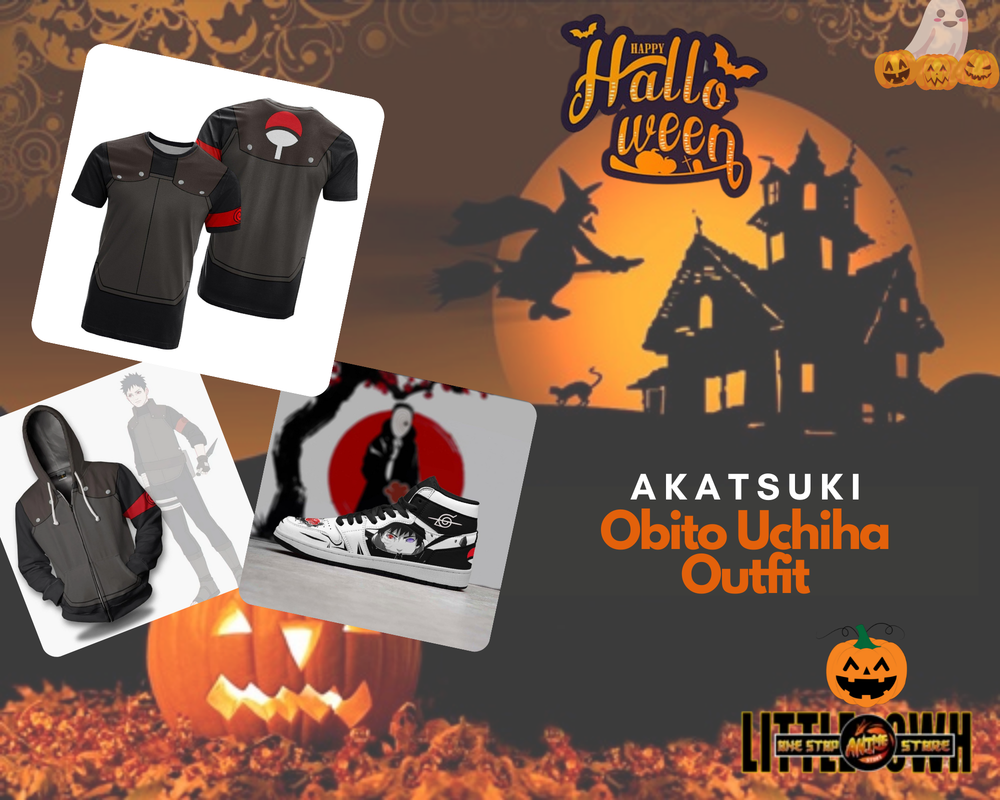 View more: Uchiha Obito Halloween Outfit
5. Sailor Moon Usagi Tsukino Outfit
Fighting evil by night and winning love by day – we all know her as Sailor Moon! If the cute Sailor Moon leader is your favorite, make sure to check out her cosplay outfits! To complete the outfit, accessorize with her characteristic blonde hairstyle.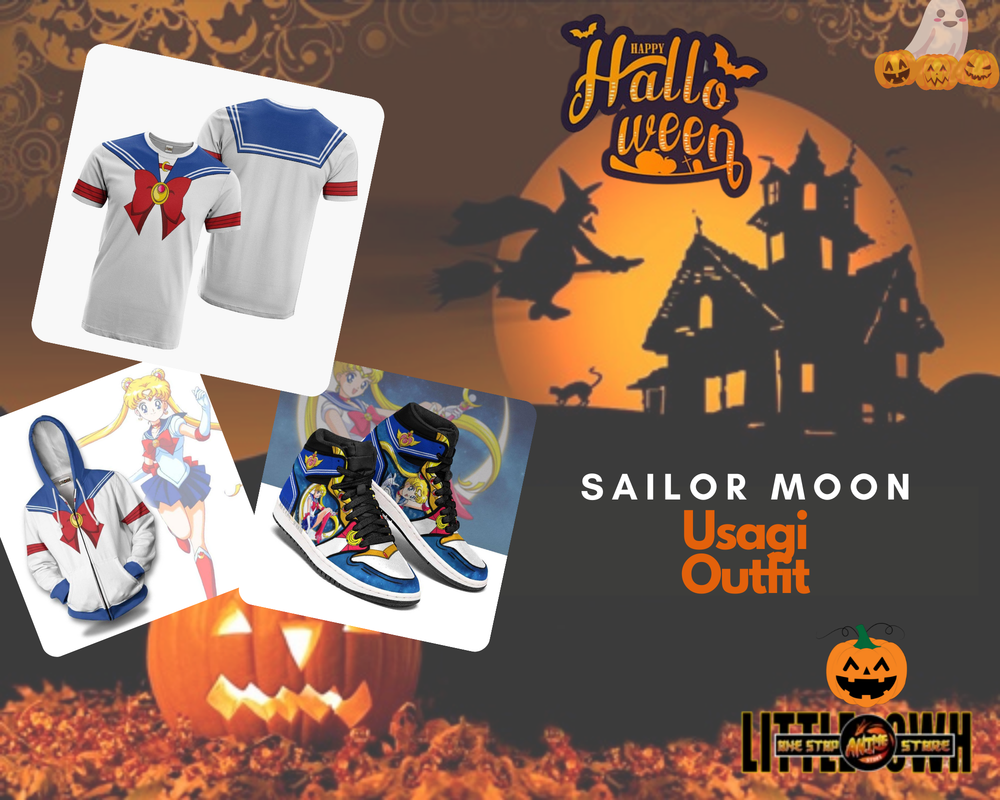 View more: Usagi Tsukino Halloween Outfit
6. Jujutsu Kaisen Ryomen Sukuna Outfit
Ryomen Sukuna is a cursed spirit who is called the "King of Curses" in Jujutsu Kaisen. Sukuna had been vanquished before, but his body couldn't be fully destroyed; thus, consistsconsists20 fingers were chopped off and sealed. Later, Itadori swallowed Sukuna's finger and became the perfect vessel, reawakening him.
As a result, Ryomen Sukuna is an excellent choice for Anime Halloween Outfits.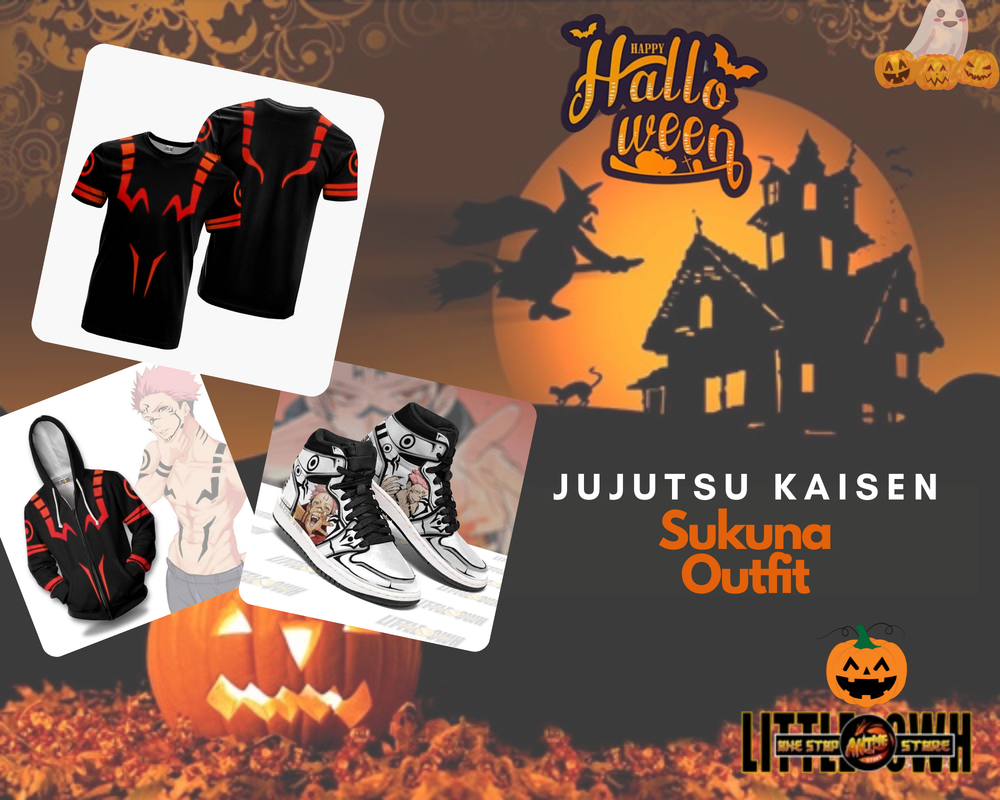 View more: Ryomen Sukuna Halloween Outfit
7. Demon Slayer Tanjiro Outfit
Tanjiro's preferred attire consists of a navy blue checkerboard Kimono, a white shirt, and black pants. He generally dresses with a blue scarf and white leg bandages. Tanjiro also wears hanafuda earrings depicting a white blossom with crimson stamens.
He has a carefree and relentless nature that makes him a blast to play and even more so to cosplay as.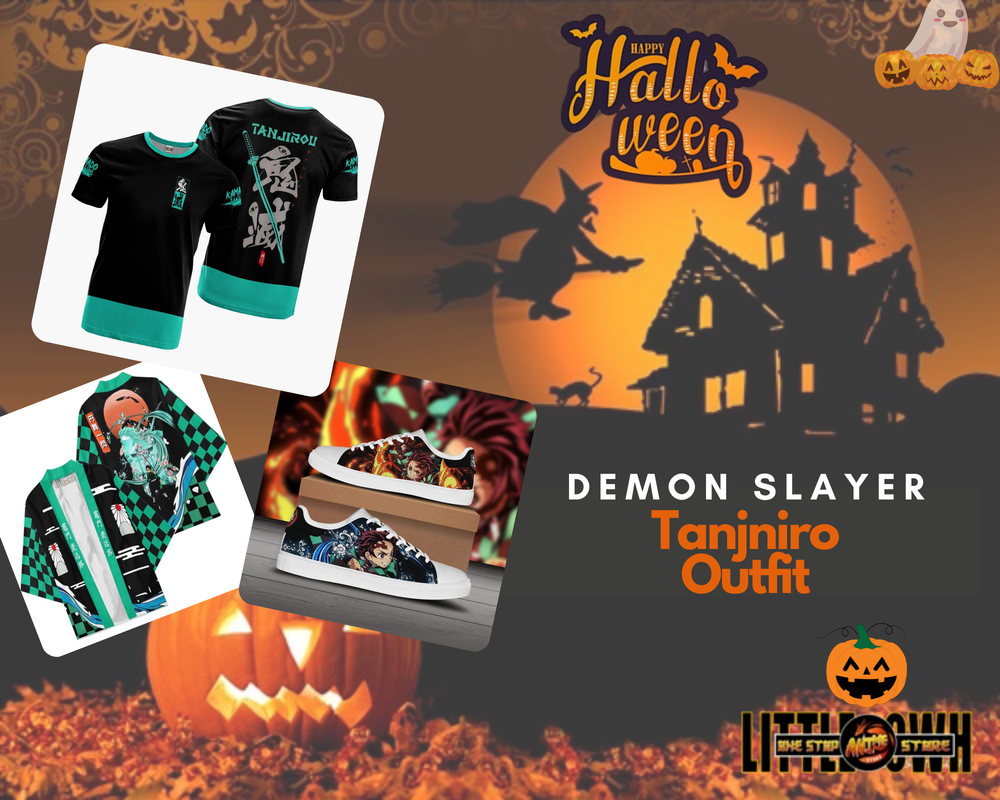 View more: Tanjiro Halloween Outfit
8. Demon Slayer Nezuko Outfit
Nezuko is the most well-known female character in the popular manga/anime series Kimetsu no Yaiba. Even Tanjirou's younger sister is acknowledged as the "national little sister" because she is extremely cute at all times, and her "cuteness" level rises with each passing day.
Let's dress up as Nezuko on Halloween, complete with pink outfits and a bamboo stick in your mouth. Simple but identifiable.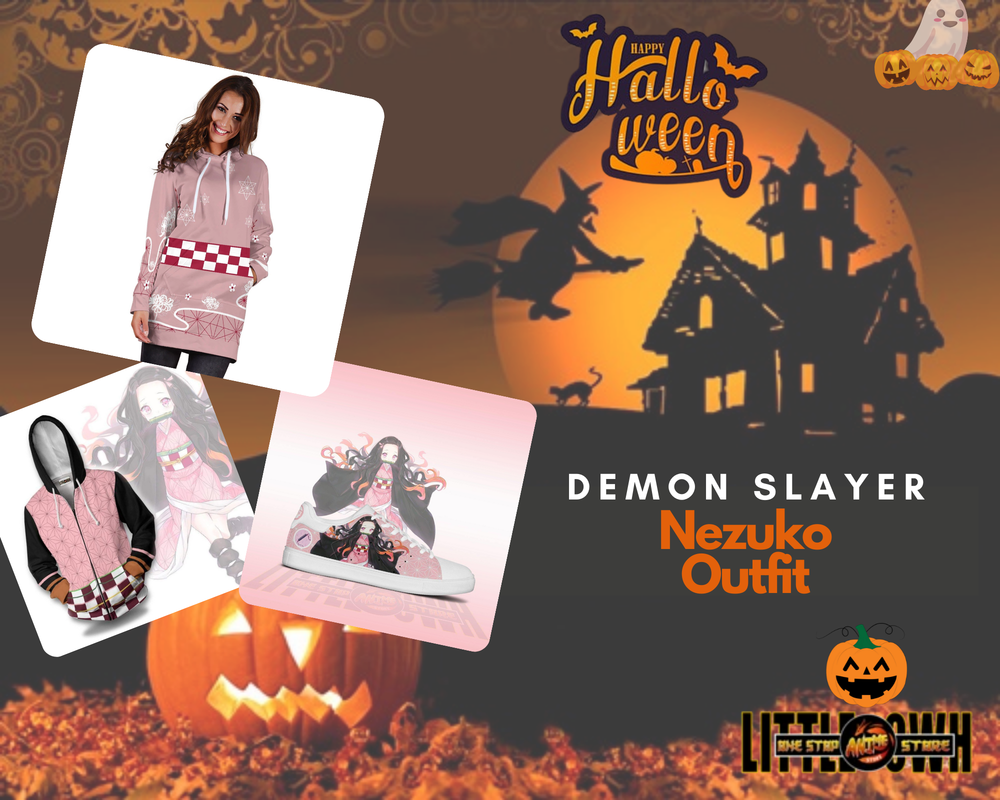 View more: Nezuko Halloween Outfit
9. Demon Slayer Zenitsu Outfit
He wears in a lighter Demon Slayer costume consisting of a dark brown gakuran shirt, white belt, and wide-leg hakama pants, as well as an orange-yellow triangle-patterned haori. He also wears tabi socks with three bows at the front that match the pattern on his haori, as well as white sandals.
This Halloween Costume is simple but identifiable by everyone.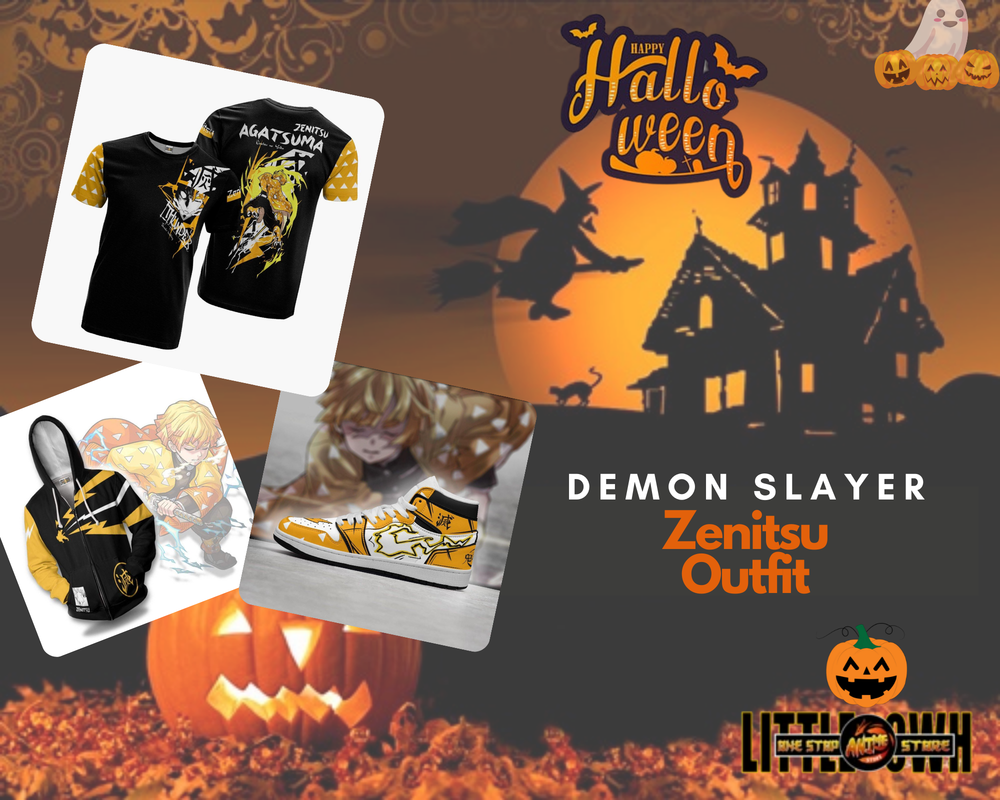 View more: Zenitsu Halloween Outfit
10. Black Clover Asta Outfit
Asta, a feisty noble knight, maybe an interesting costume option if you're a fan of the genre. You'll need his knightly attire, including his black cape and characteristic headpiece, as well as his distinctive white hair.
You'll have a basic yet instantly identifiable Anime Halloween Outfit.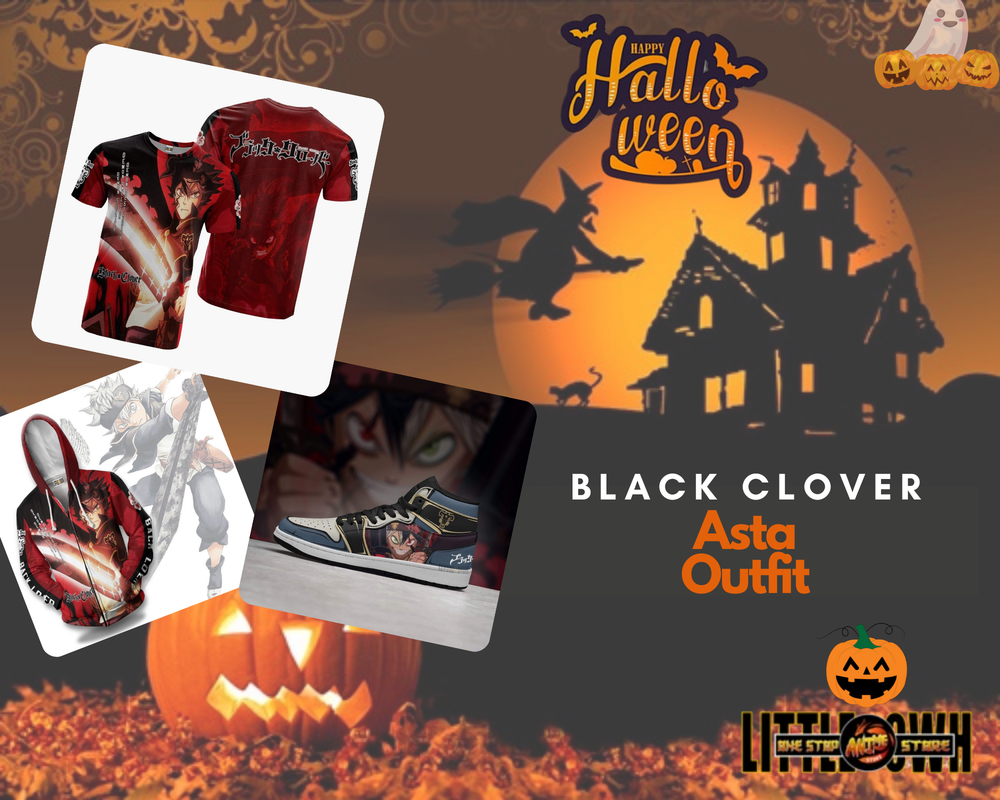 View more: Asta Halloween Outfit
11. Black Clover Secre Swallowtail Outfit
You only need a black dress and her heels to cosplay the lovely Secre from the Black Clover Anime series. To finish off your outfit, don't forget to put on a pair of red lenses.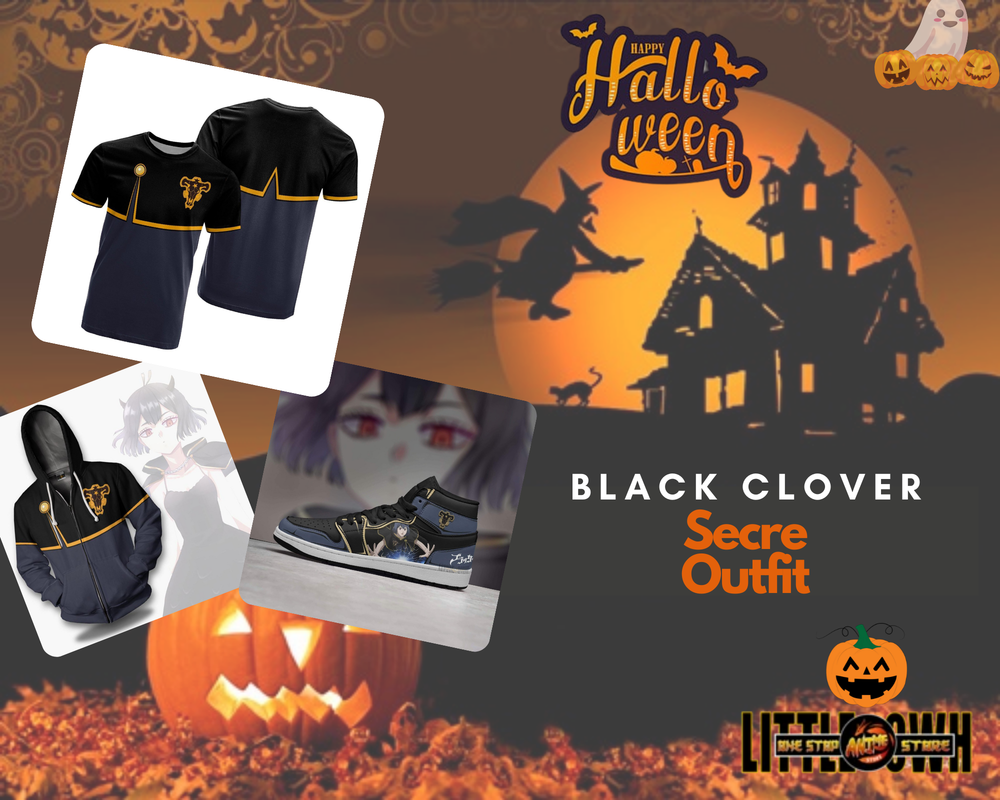 View more: Secre Halloween Outfit
12. Naruto Uzumaki Outfit
Naruto Uzumaki is one of the most recognizable anime characters, with his orange jacket and spiky yellow hair. It's easy to make Naruto's ninja costume using orange trousers, a spiky blond wig, a distinctive headband, and an orange jacket.
Naruto's signature look is simply foxed whiskers; thus, consists no makeup is required. His leg wrappings and sandals are readily added to a costume for a final appearance that many anime fans would know.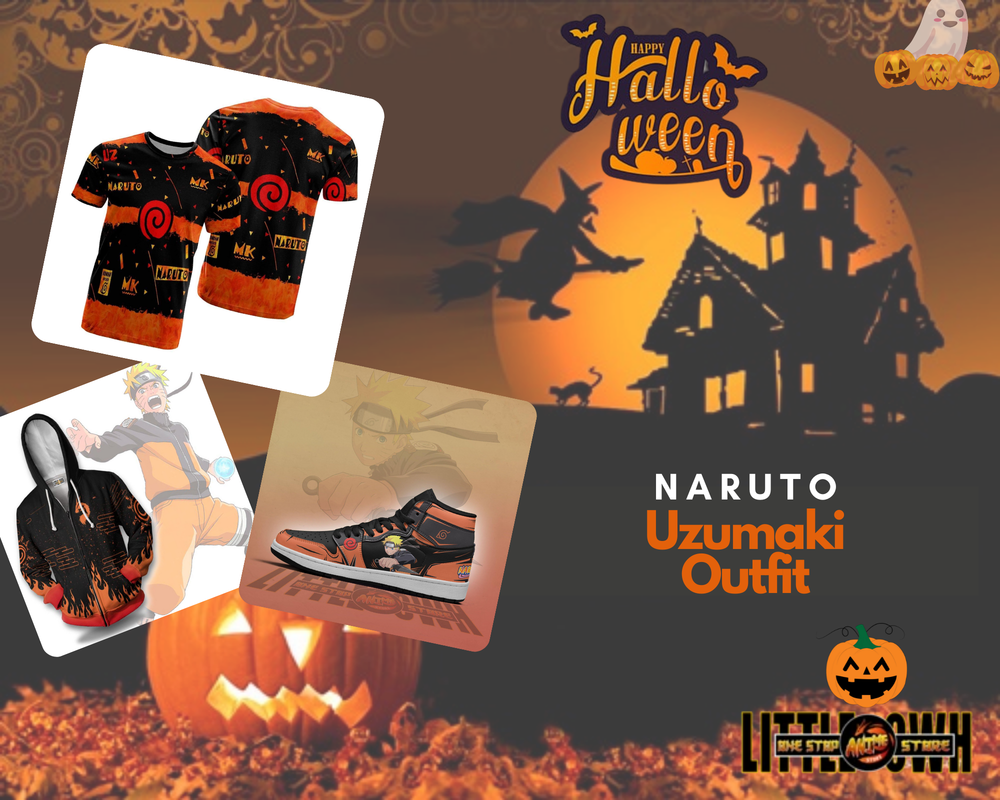 View more: Uzumaki Halloween Outfit
13. My Hero Academia Deku Outfit
Get into character as Deku of My Hero Academia Series this Halloween to slay all the baddies you come across! See if you can spot him in his teal combat gear and green-black wig. You'll look great if you have a few freckles on your face.
Take action today and create your Anime Halloween Outfits using these!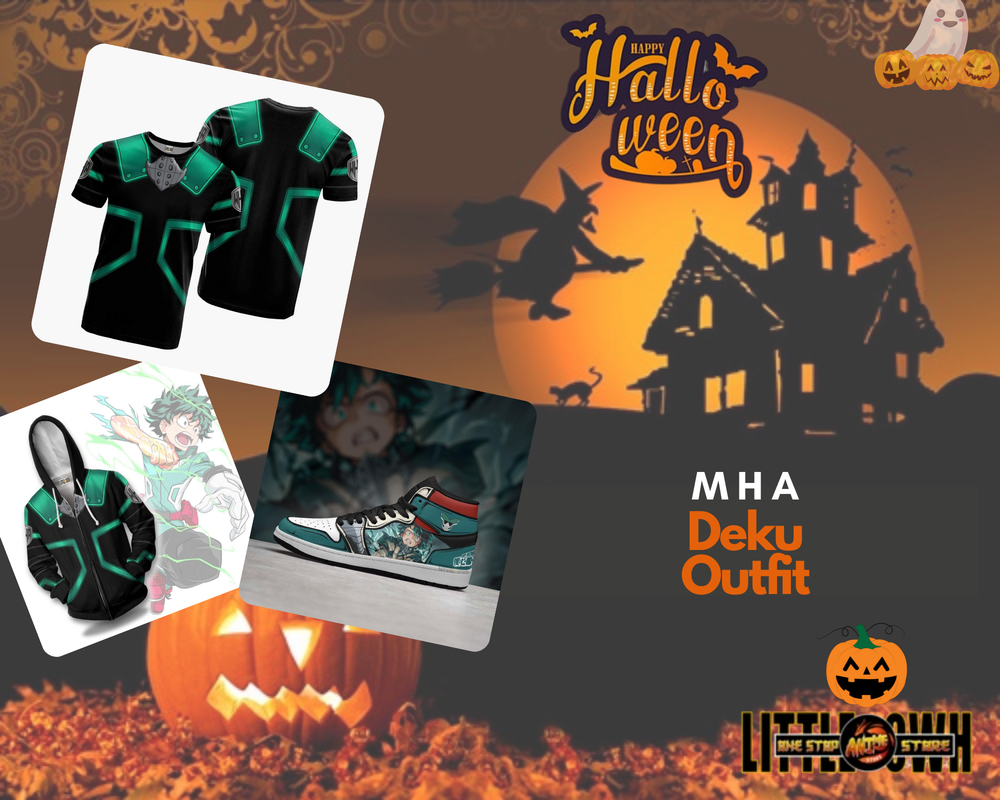 View more: Deku Halloween Outfit
14. My Hero Academia Katsuki Outfit
Join your Deku by dressing up as the explosive "Kacchan" and bringing a buddy along. Get his superhero suit, gauntlets, and a spiky hairdo for a fraction of the cost.
Anime fans will identify his cosplay right away because of the simplicity of his costume.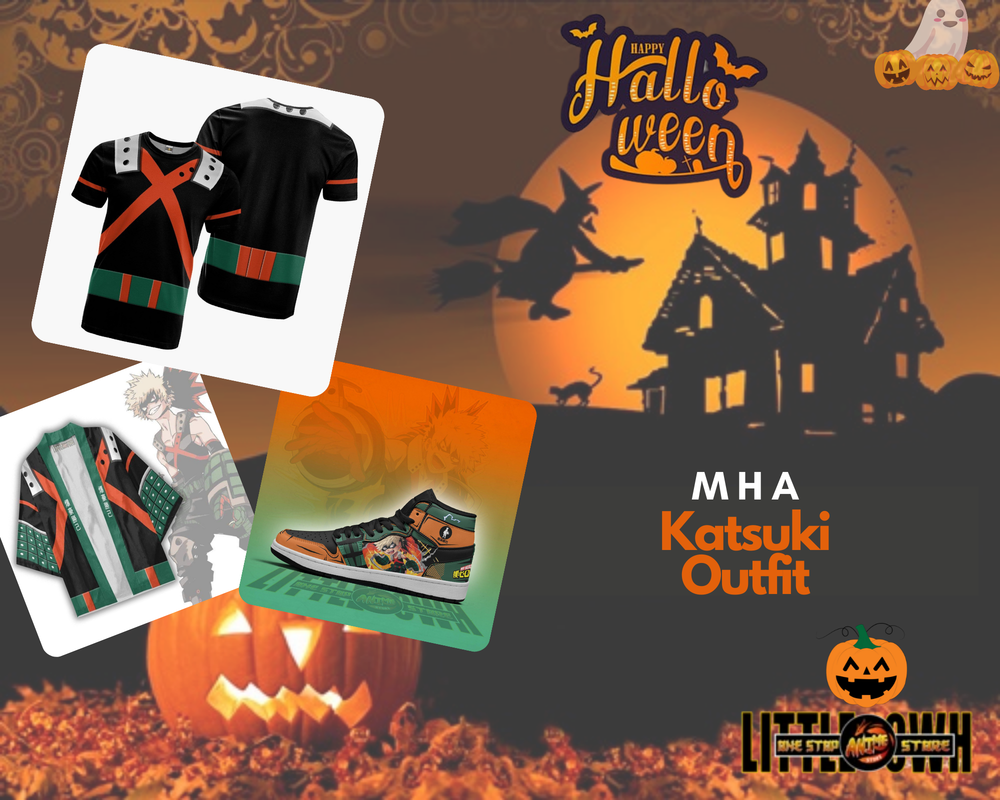 View more: Katsuki Halloween Outfit
15. Fairy Tail Natsu Outfit
Natsu is well-known in the Fairy Tail universe, and his outfit is immediately recognized. An unbuttoned black sleeveless vest with gold trim, knee-length white trousers, and a thick black bracelet is worn around the wrists constitute Natsu's primary attire. His "adoptive father" gave him black open-toed shoes and a dragon-scale scarf. It is uncommon for him to use his duvet, which is rolled up and worn over his back.
A perfect Anime Halloween Costume for Fairy Tail fans.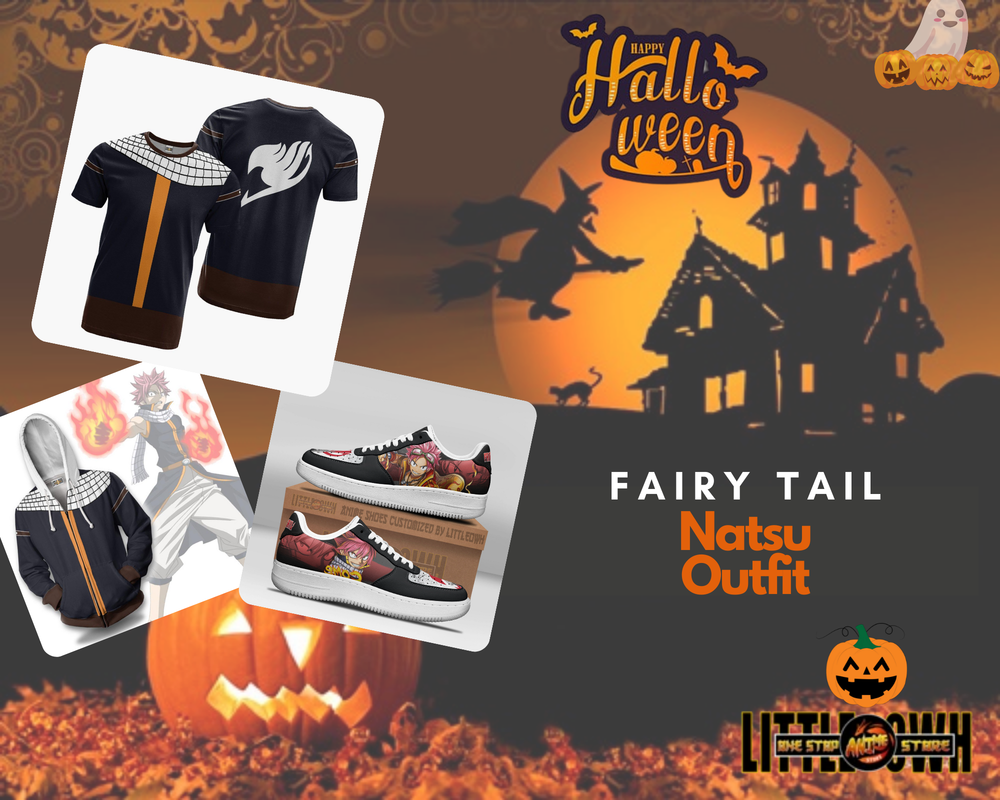 View more: Natsu Halloween Outfit
Anime lovers can still dress up as their favorite characters even if they don't have much time to arrange their outfits. Littleowh's suggestions for easy-to-wear anime costumes that don't require a lot of preparation ahead of time or money should help you have a memorable Halloween.
If you'd want to possess one of these one-of-a-kind and original Anime Halloween Outfits, please contact Littleowh Store right now.
----------------------
Support and follow the social channel.